Postgraduate supervisor selection form for MSc/PhD students
MSc/PhD students are kindly requested to fill out the following form for postgraduate supervisor selection
Link to postgraduate supervisor selection: https://forms.office.com/r/ku8GhGY0vD
Class Routine (MSc, October 2022)
The class routine is given below.
Postgraduate Admission Results (22 Jun 2022)
The following candidates have been selected for admission into the postgraduate programs (PhD and MSc.) for the upcoming semester.
Postgraduate Admission Test (Updated)
The viva voce examination for admission to the postgraduate programs of the Department of Chemical Engineering (BUET) will be held on 13th June (Monday), time: 2.15 PM. List of eligible candidates and details of the examination venue are available in the document.
Routine for MSc. Examination (October 2021)
Msc. Examinations of the current semester will begin from 2nd March, 2022 (10 am-1 pm). All exams will be held in the Seminar Room. Details available in the document.
Scholarships for current students
The following scholarships are currently asking for nominations. Interested students who meet the criteria are requested to contact the department office. Details available in the attached document.
Belayet and Salima Chowdhury Trust Fund
Shohudur Rahman Memorial Scholarship
Wasi Shirin Guidant Scholarship I and II
Shamsul Memorial Scholarship
M.A. Naser Memorial Scholarship (2022)
The department is pleased to announce that applications for the M.A. Naser memorial scholarship are now open to qualified current students across multiple departments. Applications are available on BIIS.
2 scholarships for current chemical engineering students (including 1 for female candidates)
3 scholarships for students of other departments (including 1 for female candidates)
Must submit family's proof of financial statement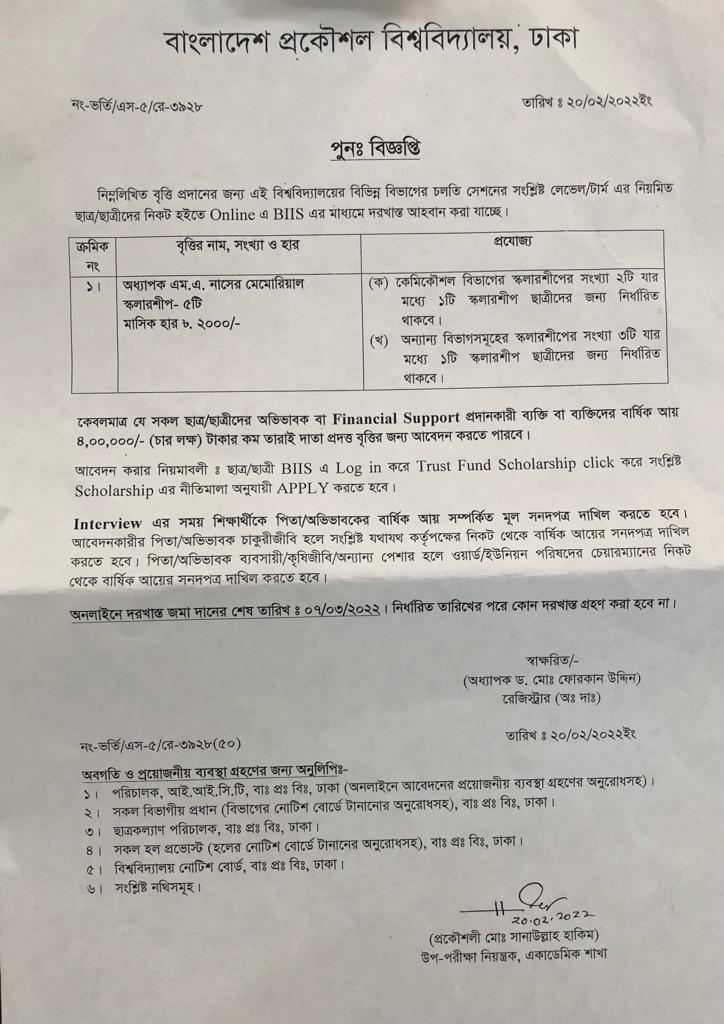 Notice July 12, 2021
List of eligible candidates for oral examination of postgraduate programs
(more…)